The fossil fuel lobby has a disproportionate influence on world leaders, but governments are not as powerless as they pretend.  If we are serious about closing the emission gap this decade and avoiding serious dangerous climate change, our work in finance, technology, and politics must drive decision makers towards saying no to high carbon infrastructure that would lock in emissions for the decades to come.
Governments do have the choice to say no. Read more…
By Timmons Roberts and Claire Langley
The winter skies were a dim grey as the second and final week began at the United Nations climate change negotiations in Warsaw, Poland.  Sadly, the hopes for an ambitious global effort to address the grave risks of a destabilized climate look similarly dim.  Read more…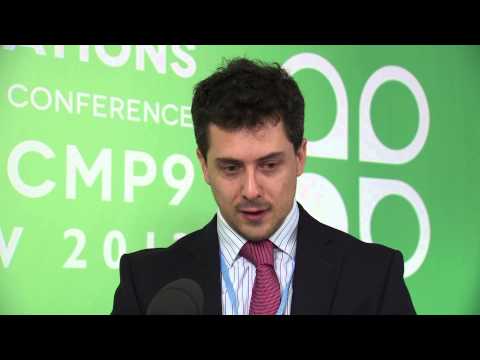 Adaptation, Adaptation, Adaptation:  If there was one call made by experts and panelists in the 1st Symposium for Climate Change and decision makers, held in Montevideo on the 8th October of this year[1], it was that further focus is required on adaptation and climate change, and not just mitigation measures, and that further analysis is needed of the social, and not just financial impacts of climate change, in South America and Latin America as a whole. Read more…
A new coalition between the EU and Latin America and the Caribbean (LAC) could be just the ticket to rejuvenate the UN climate change negotiations as they enter their third decade next week in Warsaw. This bi-regional partnership can serve as a vehicle to build momentum towards a fair, robust and ambitious agreement. All EU and LAC countries have expressed their will to adopt a new agreement by 2015, and surveys have repeatedly shown that their citizens are very concerned about climate impacts.
By Guy Edwards and Keith Madden
This year Ecuadorian President Rafael Correa terminated the Yasuní-ITT Initiative following the lack of international support. Ecuador proposed to keep 846 million barrels of "oil in the soil" under the Yasuní national park in exchange for compensation from the international community.
Information
Date: Wednesday 13, 2013
Time: 16:45—18:15
Venue: to be confirmed (room 2)
The growing challenge of climate change in Latin American is driving some countries in the region to take steps to address climate change within their nations. The objective of this side event is to share the results of the "State and quality of public policies on climate change and development in Latin America" report, as well as experiences from Mexico, Peru and Brazil, while identifying the challenges and opportunities for the region.
Panel
Daniel Ryan – PCL/FARN
Mariana Castillo – CEMDA, México
Isabel Calle – SPDA, Peru
Carlos Rittl- de Observatorio do Clima de Brasil
The U.S. has a long history of political resistance to the international climate negotiations which has meant that president Obama has had to learn from trial and error. His strategy has not always been successful and at times has been harshly criticized by both Republicans and environmentalists. However, such battles have led Obama to take an alternative route to tackle climate change through a flexible strategy that offers new possibilities to advance the international climate negotiations. Read more…
In a bid to protect future prosperity from serious climate change impacts, Latin American countries are attempting to balance climate action with economic growth, through domestic policy and at the UN climate talks. Read more…
Since the creation of the Green Climate Fund (GCF) in 2010, concerns have grown about the World Bank's potential role in designing policies to determine the allocation of resources for adaptation and mitigation activities in developing countries.